Non-Surgical Spinal Decompression – How Does It Work?
Non-Surgical Spinal Decompression - How Does It Work?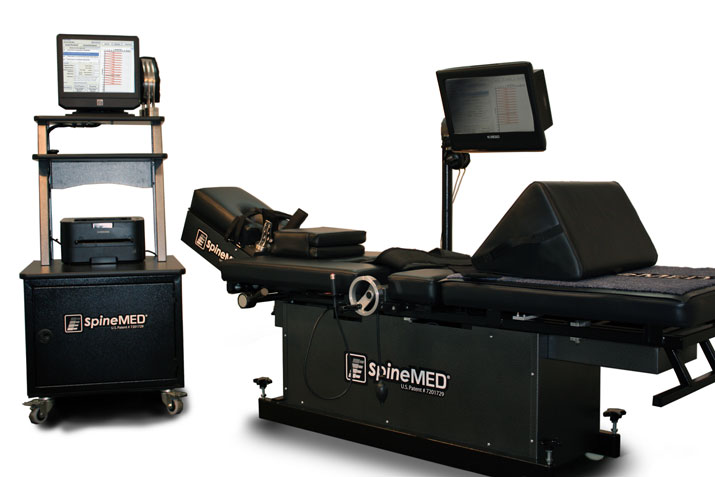 Non-surgical spinal decompression is an advanced system of computerized, software-driven technology that allows patients to recover safely from degenerative joint and disc disease. Conditions such as degenerative discs, bulging discs, herniated discs, spinal stenosis, hip/leg pain, sciatica and non-diabetic neuropathy can often resolve with this non-invasive technique. One study authored by Dr. John Leslie of the Mayo Clinic and others, found that clinical use of a spinal decompression system led to an 88.9 percent reduction in pain scores over six weeks, as well as a drop in consumption of pain medications and improvement in quality of life.
NSSD works by gently and painlessly distracting involved vertebra and unloading compressed joints, discs and nerves with proper patient positioning. This technology was first introduced in 1991 by a Canadian physician who pioneered its development with the introduction of the VAX-D. Since then, many newer and more advanced systems have been developed that have allowed even the most severe cases to improve and allow many to avoid surgery. In our office we use the SpineMed System and have done so for almost twenty years. After examining the available systems on the market today, we believe we have the most sophisticated, state-of-the-art machines available for this treatment.
The SpineMed System which is the only one of its kind with a patented, direct-restraint system rather than harnesses and pulleys, implements a very gentle, smooth stretch that allows intervertebral discs to draw fluid and nutrients back in to expand and heal. Often even fully herniated discs resolve as the decompression allows the inner nuclear material of the disc to be retained and taken in off the spinal cord and nerves. This facilitated state of imbibition is unique in its ability to cause a negative pressure to develop within the disc and causes a vacuum-effect to occur. This is a critical point as other mechanisms are touted as 'spinal decompression' and are not. In fact, research has shown that conventional traction devices and suspension devices cause the pressure within spinal discs to increase. While pain may be temporarily reduced due to stimulation of neural receptors within the joints, a disc condition could be made worse.
At Ally Spine Center we recommend all patients who are taking medications for chronic pain conditions related to the spine or who may be considering injection therapies to mask symptoms, to call our office for a second opinion. It is important to consider the safety and effectiveness of all options especially when so many patients resort to FDA unapproved epidural injections and suffer the consequences of Failed-Back Surgery Syndrome.  We always put our patients' needs first and make recommendations that are based upon our years of experience and the best research available so all options may be explored.
OFFICE HOURS
---
Monday
8:30am - 7:00pm

---
Tuesday
Closed
---
Wednesday
8:30am - 7:00pm
---
Thursday
8:30am - 7:00pm
---
Friday
Closed
Ally Spine Center
Proud Member of