If You Smiled With Your Spine, Would You Take Better Care Of It?
If You Smiled With Your Spine,
Would You Take Better Care Of It?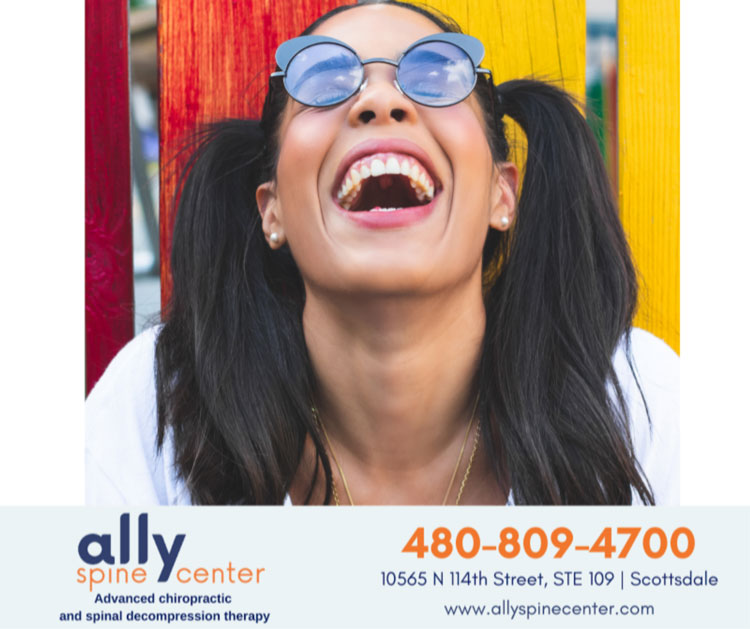 For many years patients would only see a dentist if they needed a tooth pulled. As a profession, dentistry has evolved to teach the importance of prevention and maintenance for optimal oral hygiene. Today, the profession of chiropractic is the third largest health care profession in the world after traditional western medicine and dentistry. And like the dental profession, chiropractic has made great advancements over the years.
When it comes to considering what type of care you should pursue for your spinal health consider how you would approach it if other people could see what you looked like on the inside or if you smiled with your spine. What would you do?  Ironically, even though we cannot see the spine without imaging procedures, we can see the abnormal postures of forward head, hump-back, sway-back and scoliosis. With today's advanced techniques, chiropractic care can often contain and correct the spinal decay and causes of abnormal posture, neck and back pain. Remember, your posture is a window to your spine! Even though a thorough examination and x-rays are performed in our office to accurately assess a patient's condition, simply looking at one's posture and ranges of motion of their spine can reveal a lot.
Much like the dental profession, chiropractic has evolved with better research and techniques over the last few decades. Chiropractic teaches the importance of prevention and maintenance and addresses modern living challenges such as proper ergonomics while at the computer and how to avoid "text-neck" from looking down at cell phones. Today, the advanced postural corrective procedures and technology including non-surgical spinal decompression have been shown to correct underlying spinal conditions that cause pain and disability and postural deformities. Non-surgical spinal decompression has been promoted by top neuro and orthopedic surgeons around the world. One famous study by Dr. Dennis McClure, a neurosurgeon, revealed an 86-92% success rate with spinal decompression treating bulging and herniated discs. With an epidemic of back and neck pain and associated disability, now is the best time to discover the advanced care available to help you regain the quality of life you deserve.
OFFICE HOURS
---
Monday
8:30am - 7:00pm

---
Tuesday
Closed
---
Wednesday
8:30am - 7:00pm
---
Thursday
8:30am - 7:00pm
---
Friday
Closed
Ally Spine Center
Proud Member of